Conservation and restitution of biodiversity in the mountain meadows of the Biosphere Reserve Rhön - Management of the invasive perennial lupine (Lupinus polyphyllus Lindl.) in a complex system of protected areas
Project duration: 01.04.2017 – 30.11.2020
Funding: DBU – Deutsche Bundesstiftung Umwelt (German Federal Foundation for the Environment)
The aim of the project is to assess different management strategies for the invasive lupine (Lupinus polyphyllus Lindl.) in the Biosphere Reserve Rhön, including the investigation of effects of cutting regimes on the use of mountain meadow biomass for energy purposes.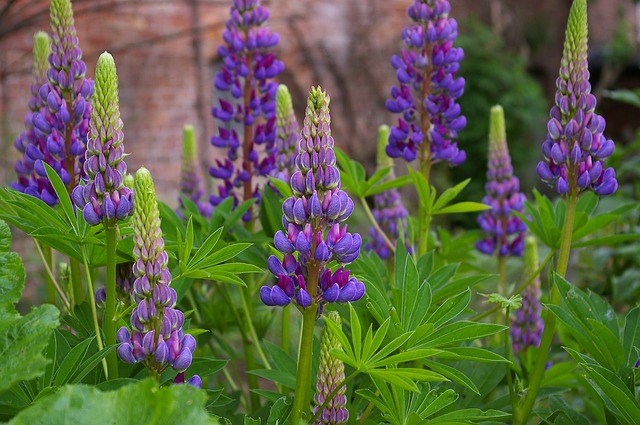 Research background:
In the Biosphere Reserve Rhön the invasive perennial lupin (Lupinus polyphyllus Lindl.) leads to permanent changes in ecosystem processes and functions. It affects the nitrogen input and the structure of the vegetation. On the invaded meadows a shift of plant species towards high-growing, ruderal species groups and a decline in the number of plant and animal species was observed. In this project, a concept for the permanent restitution and conservation of the species-rich grassland was developed and tested. One part of the concept was investigating the opportunity to limit the expansion of L. polyphyllus by different cutting regimes. The resulting invasive plant biomass was processed through the IFBB technology. The resulting press-cakes were tested, and biogas yields of press-liquid were estimated and compare to the parent material.
Hypothesis: Solid fuel and liquid biogas substrates via IFBB technology can be successfully applied for the treatment of residual biomasses from invaded semi-natural grasslands.
Research questions:
Is the cutting time affecting relevant properties of the biomass, solid fuel and press liquid and consequently its use for energy purposes?

What is the biomethane potential for the lupine containing grass silage and the press-fluid after the IFBB processing?

What is the impact of lupine content in the grassland biomass on the resulting energy carriers?

Main results:
The cutting time had no significant effect on the calorific value of the biomass

The calorific value of grassland biomass was in a range between 15.5 – 17.8 MJ·kg-1 TM for golden oat meadow and Nardus grasslands respectively

Treatment of the lupine containing biomasses through the IFBB process resulted in a significant increase in total energy yield per hectare

Grass silage fermentation batch experiments resulted in a methane yield of 190 – 230 lN·kg-1 oTS

Fermentation of the IFBB press-fluids resulted in a methane yield of 260 – 330 lN·kg-1 oTS.

Neither the cutting time nor the presence of lupine had a significant negative effect on the biogas yield

Long-term experiment showed that the specific biogas yield of the lupine containing material was higher than from the pure Nardus grassland biomass.
The project demonstrated that IFBB processing of biomasses resulted in higher environmental and primary energy savings across all grassland sites. Thus, the IFBB represents a better option compared to solely anaerobic digestion.
Project partners:
Justus Liebig University Giessen – Landscape Ecology and Landscape Planning and University of Kassel – Grassland Science and Renewable Plant Resources in cooperation with Biosphere Reserve Rhön Bavarian and Hessian administrative offices and Rhön-Grabfeld landscape conservation association.